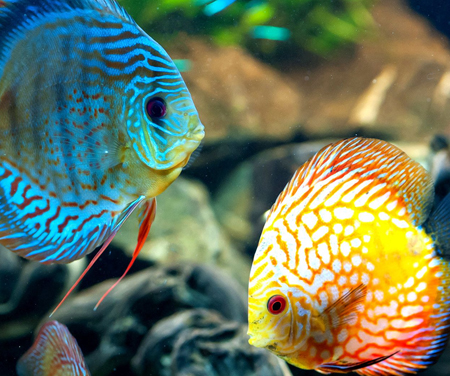 Is It Safe To Order Discus Fish Online?
If you wish to add Discus fish to your tank, Discus Guy is the best place to buy them from. We have been breeding, raising, and selling Discus fish for more than 20 years. Every Discus fish that comes out of our store is bred correctly with the best health, color, and lifespan.
Unlike other sellers, our Discus fish store has the healthiest options. Our Discus fish are not stunted, so you can expect perfectly round fishes to arrive in your aquarium. We never use hormones and other enhancers that will harm the fish. All of our fish are fed with the best Discus fish food for excellent health.
Our Discus fish for sale will be delivered using specialized delivery to ensure safety. We exhaust all means to reduce the stress of the fishes during transport.
We offer overnight shipping all over the USA through FedEx and UPS. Our live fish delivery is focused on keeping the fish safe so that it will arrive in good condition.
How Do You Pick Discus Fish?
When shopping for Discus fish for sale, look for a round shape. Here at Discus Guy, we sell round and healthy Discus fish that are not stunted. Our fish have clear eyes, which is a guaranteed sign of good health. Fish with cloudy or matted eyes have a disease.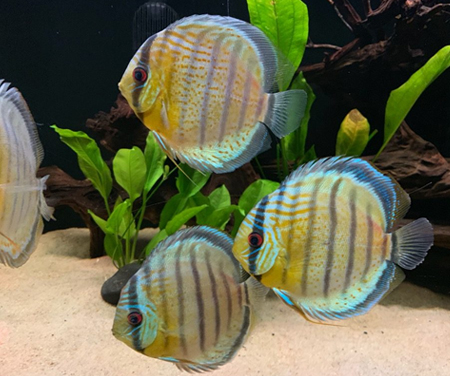 The fins and tails of our Discus fish have no scratches, holes, or sores, either. It's a clear sign of our responsible raising. Most of all, the fish you'll get from us at Discus Guy are not too fat or too thin. Contact us with any questions you may have. We are happy to help you choose the best Discus fish for your aquarium.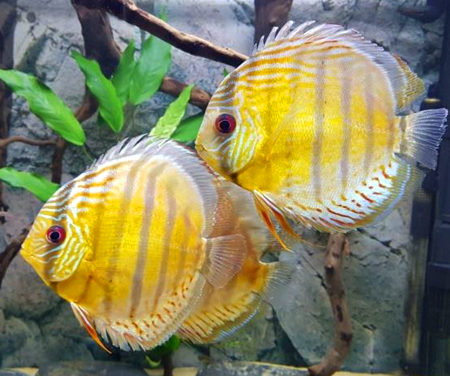 What to Know When you Buy Discus Fish Online?
When buying discus fish for sale online, you must check the condition of the fish first. Here at Discus Guy, we encourage you to consider the following when buying our fish:
– Invest in high-quality fish: A lot of discus fish stores sell cheap fish, only for you to find out that they don't live long. All of our discus fish are born into healthy living conditions to ensure they have a long life.
– Look at the body style: As an experienced discus fish store in New Jersey, we know what a sick fish look like. Holes, scratches, and damaged fins or tails are indications of poor health. In some cases, the fish may have been injected with hormones, which is an unacceptable practice.
– Check the fish feces: The discus fish in our New York farm are free from parasites and infections. When buying, check if the fish has yellow feces trailing from its body. This could be a sign of infection, which could transfer to other fish in your tank.
What is the best food to feed discus fish?
Here at Discus Guy, we feed our fish the best discus fish food out there. We provide food that's based on the natural habitat of the fish to ensure that they will have stunning and natural colors. In the wild, discus fish eat plant matter, insects, and worms mixed in water.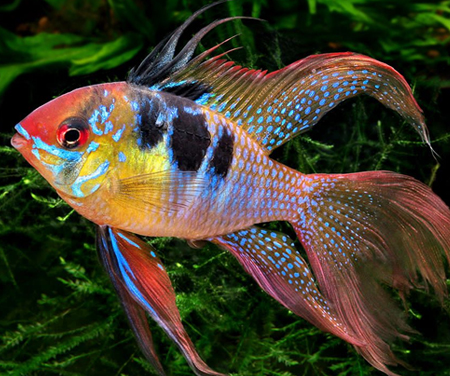 At our live aquariums in New York, we feed our discus fish with a combination of live and dry food, which guarantees a healthy balanced diet. Rest assured that all our fish are properly nourished with no hormones or artificial food.